When is The Best Time to Sell?
---
20th May 2014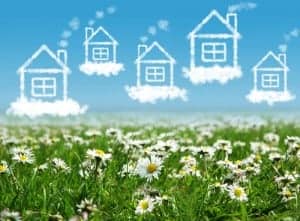 It is often rumoured when the best time of year to sell a house is. Before you decide to sell your house with Home Estate Agents, you may want to consider which season will be of maximum benefit to your sale before putting your home on the market.
We bring you a general guide detailing which time of year is commonly believed to be best to sell up in order to secure the best sale price possible for your property.
Spring
Advantages: Spring is often thought to be the optimum time of year to sell a house. Many people use spring as an opportunity for a fresh start and new beginnings, and there are no major holidays to compete with.
Disadvantages: Keep in mind that other people will have the same idea, and selling up during the spring season will inevitably mean more competition.
Summer
Advantages: The warm summer weather will make your home will look much more appealing to viewers, especially with the garden in full bloom. You should also bear in mind that once the spring buying frenzy is over there will be less competition from other sellers.
Disadvantages: Even with the sun shining and warm weather, summer isn't always the best time to sell up. People are more likely to be spending these months on holiday or saving up for trips and activities rather than house hunting.
Advantages: If the weather is still fair then your home may still benefit from a faster transaction and maximum sale price. While there may be fewer buyers, they are often more serious and motivated to make a purchase.
Disadvantages: You will have to work harder to keep the exterior of your home well raked and looking neat and tidy. We would advise you don't leave it too late to sell as the closer to Christmas the sale is, the less likely people will be to consider upping sticks.
Winter
Disadvantages: There are significantly fewer hours of daylight in winter to show off your home and the weather conditions are usually bad around this time of year. You may be able to put your sale in a much better position if you wait until after Christmas and New Year when people are less distracted and more likely to be thinking about the year ahead.
Advantages: Despite the wintertime inconveniences, selling in the winter isn't all bad. A house can look magical, cosy and inviting during the winter, and young buyers who are less tied to traditional and seasonal patterns may not be put off so much by the season.
Whatever the time of year, we are confident that we can get you moving. With 30.4% of the SOLD signs in Urmston, Davyhulme and Flixton we are the leading agent in the area so book your free, no-obligation valuation with us.