UK House Prices up 8% in a Year
---
24th June 2014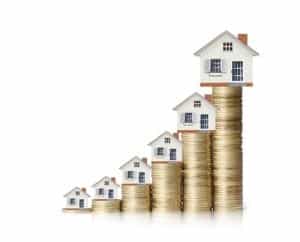 According to official statistics from the ONS (Office for National Statistics) average house prices in the UK have risen by 8% in the year to March.
The rise means that the average price for a residential property in the UK is now worth around £252,000. Unsurprisingly, the greatest rise was in London where house prices inflated by a staggering 17% valuing the average property at £459,000.
Here in the North West we saw the slowest growth with a 3.1 per cent increase taking average house prices to £165,000.
According to the regional breakdown, it was clear that inflation was hitting some areas of the country harder than others:
England – 8.5%
Wales – 4.9%
Scotland – 0.8%
Northern Ireland – 0.3%
London – 17%
East of England – 6.6%
South East – 6.1%
UK (excluding South East and London) – 4.7%
North West – 3.1%
The government-backed Help To Buy scheme, which was originally set up to support new homebuyers get a mortgage, was due to be extended at the end of the decade, but the recent statistics have prompted industry experts to call for the scheme to be scaled back.
The news came as Prime Minister David Cameron told the BBC:
"Of course, we will consider any changes that are proposed by [Bank of England governor] Mark Carney.
"But, as he said, this is a well-targeted scheme and it has helped tens of thousands of people get on the housing ladder and to have mortgages."
Although the Help to Buy scheme has helped masses of first-time buyers onto the property ladder, shadow chancellor, Ed Balls, claimed that the scheme was simply too high:
"We've said it should come down much closer to average house prices. A number below £400,000 would make much more sense than £600,000 which is far too big a house price for the taxpayer to be guaranteeing mortgages. "