Is Your Front Door Making a Good Impression?
---
18th March 2014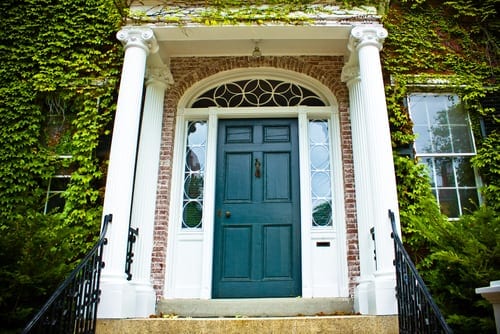 We may have been taught from a young age not to judge a book by its cover, but research has shown that it takes buyers just 8 seconds to decide whether or not they will buy a house.
The outside of a home can make a big impact and never more so than the front door itself.  In fact, it has been said that when you open a front door it is like shaking hands with the house, so in order to make a good impression it's vital that a home has a solid, well-maintained door that is in keeping with the style of the property.
Interior designer Cecilia Neal of established company Meltons told The Telegraph:
"People look at a front door before they look at anything else," "Your front door reflects what you think about the house. A door can sell a property."
The article also revealed that a good front door could add as much as 10% on to the value of your property. Replacing your door completely isn't always necessary and you could find you add value to your home with a simple lick of paint or investment in some tasteful door furniture. These touches are relatively inexpensive but could prove instrumental in securing a sale.
The colour that a homeowner chooses to paint their door could prove equally as vital in attracting a buyer's interest. Research has shown that white is the most popular colour for wood front doors in the UK today, while natural stained/varnished doors are the second most popular choice.
Black came in third – the colour of arguably the most iconic front door in Britain, 10 Downing Street. While Prime Ministers have come and go, one thing has always stayed the same at number 10, and it remains to be one of the most well known doors throughout the world.
Tips for winning front doors
Play it safe – a new front door should be in keeping with the property.
Don't make life difficult – buy a door before making a doorframe.
Keep your front door neatly painted and the plants around it well watered.
Make sure your door furniture is in proportion to the size of the door.
Do check you have permission to make alterations.
Looking for more guidance on selling your property? Contact us at Home Estate Agents for friendly, honest advice.