Don't miss the boat!
---
10th July 2014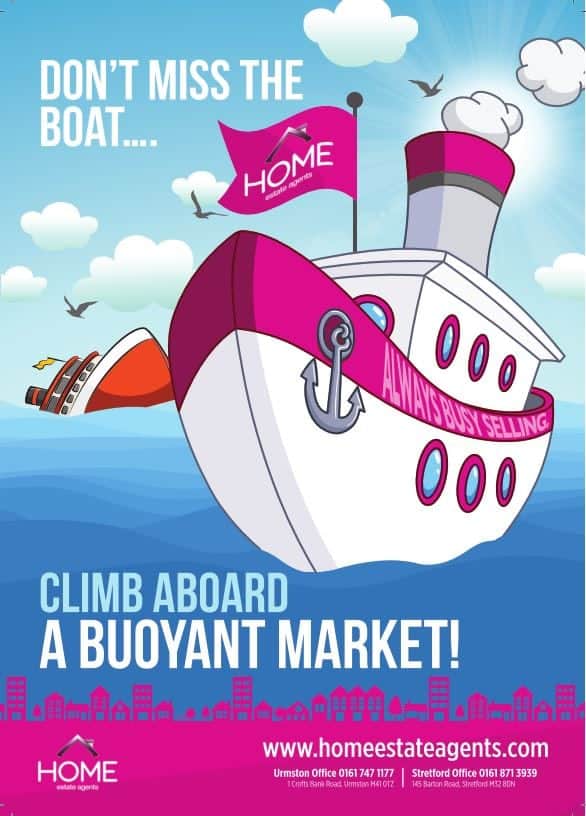 A question I regularly get asked is, 'How is the market at the minute?'
It's an obvious question to ask your estate agent and one that in recent times is becoming more difficult to answer. Over the first half of 2014 we have seen record number of buyers registering with us to buy, record number of viewings and as a direct result a record number of sales being agreed. Just at the Urmston office we have agreed 47 more sales over the first six months of 2014 compared to the same period in the previous year. A fantastic result and one all the team are very proud of.
At HOME we are not the type of company that rests on its laurels and become complacent. We are always looking at the market to ensure the best for our clients.
The market is certainly changing though. Negativity that you may have heard on the news or read in the press does not help the industry and the assumption that while London is 'booming' the rest of the country is, is simply incorrect.
In my opinion if you are considering selling and moving soon, now is the time to do it! There are still clients registering and due to the lack of property coming to the market there is a lack of choice for the buyer making it in theory less of a competition.  Many vendors are surprised in the quick level of interest and the amount we are able to achieve for their property.
If you would like to discuss your potential move and not miss the boat call your nearest HOME office. Urmston: 01617471177 or Stretford: 01618713939
With offices in Urmston, Monton and Stretford, Home Estate Agents have a proven track record and are experts in helping you find your new home.
Our blog contains a whole multitude of home improvement tips, so make sure you check some of them out today. Make sure to check out our list of the best Instagram account to follow for home inspiration!