Types of House Survey
---
17th June 2014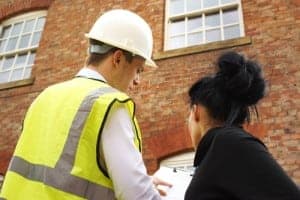 When buying a home it is essential to get a survey carried out as soon as possible after your offer is accepted. Home Estate Agents take you through the four main types of the survey a buyer can purchase.
What is a Survey?
A survey is a detailed inspection of a property and can tell you everything you need to know about the condition of a building. It can give you peace of mind that there won't be any unexpected surprises later on and tell you whether the property is actually worth the amount you have offered. If you discover there are repairs to be done, you may be able to negotiate a lower asking price or budget for any costly work.
What you type of survey you get, and how much the report costs depends on the condition and age of the house.
Valuation Report
Average cost: £150-300
A valuation report, as opposed to the other types of survey, is simply there to tell you whether the property you are about to buy is worth the amount that you have offered for it. A valuation report will provide you with a market valuation of the property but will not go into any detail about its structural condition.
Condition Report
Average cost: £100-250
A condition report is the simplest form of a survey you can get. The purpose of the survey is to give the homebuyer reassurance by providing an objective overview of the property without going into extensive detail.
A condition report should highlight:
Any areas of concern within the property
The rebuild cost of the property
It will not provide you with a valuation, or any advice
Homebuyer's Report
Average cost: £250+
A homebuyers report will give you a much more detailed overview of a property and will include a market valuation.
A homebuyers report will check out:
The general condition of a property
Structural safety
Major problems such as damp and rot
Estimate on the insurance rebuild cost
It will also provide you with advice on:
Any defects that may affect the value of the property
How much problems could cost to fix further down the line?
Building Survey
Average cost: From £600-£2000 (depending on the value of the property)
Building surveys are particularly useful if you are buying an old, listed or unusual property. Unlike the Homebuyer report, a building survey won't include a valuation.
A building survey will usually provide:
Detailed inspections behind walls, above ceilings and between floors.
A full, comprehensive breakdown of the condition of the property
A detailed report at the end with advice and estimates on maintenance and repairs