STILL URMSTON'S LEADING AGENT!
---
07th October 2015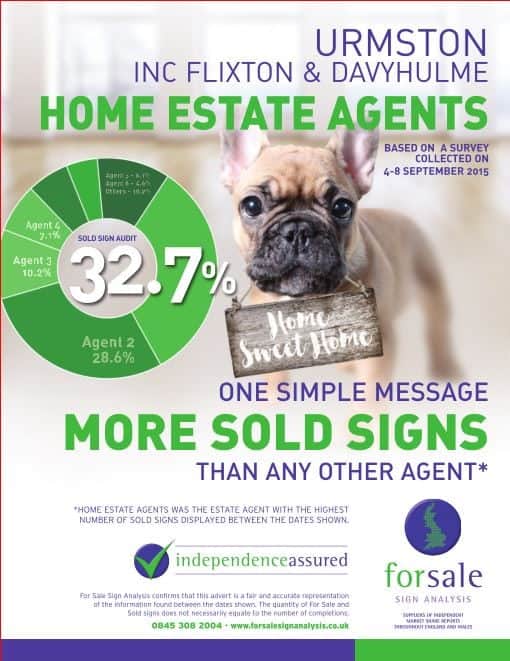 Each and every quarter an independent company, The For Sale Sign Analysis group visit our area to collate figures relating to the housing market in M41.
Part what they do is to collate the number of FOR SALE and SOLD signs up with the are which then can be used for marketing purposes…and of course local bragging rights!
The most recent report completed in September has we are delighted to be able to say we are again officially Urmston's leading estate agent with 32.7% of all SOLD signs up with our area. Given that we are a completely independent agency and the number of other agents within our town to say we have nearly a 1/3 of all sold signs is something e are extremely proud of.
So what makes us more successful than the rest?
Being independent means we genuinely have to sell your property and for the best possible price. Maintaining the good name we have locally will only continue if carries on being our main focus. Unlinke many agents we still advertise on all the major websites including Rightmove, Zoopla and our own. We have seen the interest we receive from Zoopla has increased dramatically which obviously agents that are not on there do not see the increased activity.
We pride ourselves on always looking to use the latest technology and in September this was shown once again with the introduction of our Touch Screen at the Urmston office. A unique marketing approach that gives the properties 24 hour a day exposure from just touch our office window. It has been a huge success already with new properties coming to the market with us as a result and many viewings being booked.
Our team, the most important element of any independent business are all either from Urmston originally or have lived in the area several years. The Group Director, Stephen Groves, grew up in Davyhulme and went to both Davyhulme Primary School and Wellacre High School.
Local knowledge is everything.
If you're considering moving call your local HOME office:
URMSTON 01617471177, STRETFORD 01618713939 & MONTON 01617898383