WE DO WHAT WE SAY WE'LL DO!
---
03rd January 2015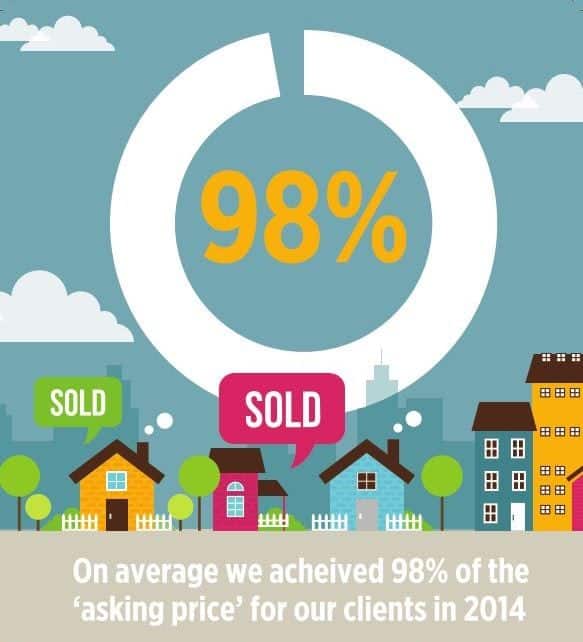 On average in 2014 we achieved 98% of our clients asking price when selling their home! How can you ensure you get the best price possible?
When you start thinking of moving one of the first things every homeowner considers is how much is their property worth. The obvious thing to do is book for local estate agents to come to your property to find out what the 'so called' experts think of your home.
Now the next part should be simple but can be one of the most tricky parts of marketing your property. Which estate agents valuation is right?
Giving an accurate valuation is not difficult on the vast majority of valuations for an experienced agent. They look at current market conditions, recent properties sold both with their agency as well as other, what is demand like for that particular type of property and they use their local knowledge such as is the property south facing etc.
With all this being the case the valuations should be similar but the chances are you'll find at least one a lot higher than you expected. Usually the highest valuation is not the correct valuation. Ask yourself would you pay what was being suggested for your property?
When we carry out a valuation we prepare fully for the appointment which enables us to explain to you in detail why we are saying the price we are for your property. We want to achieve the price we suggest is the price we want to achieve for you. Throughout 2014 we were delighted with the figures we were achieving for our clients just as much as they were. On average we achieved 98% of the asking price which shows we do exactly what we say we're going to do.
We are proud to be a local independent estate agent and I (Stephen Groves) was born in Urmston at Trafford General Hospital (or Park as it was known before), went to school at Davyhulme Primary and grew up on the 'Wimpy Estate'. We couldn't get more local really!
If you're considering moving book your valuation:
URMSTON 01617471177     STRETFORD 01618713939     MONTON 01617898383