HANG ON, THERE'S STILL TIME!
---
26th September 2014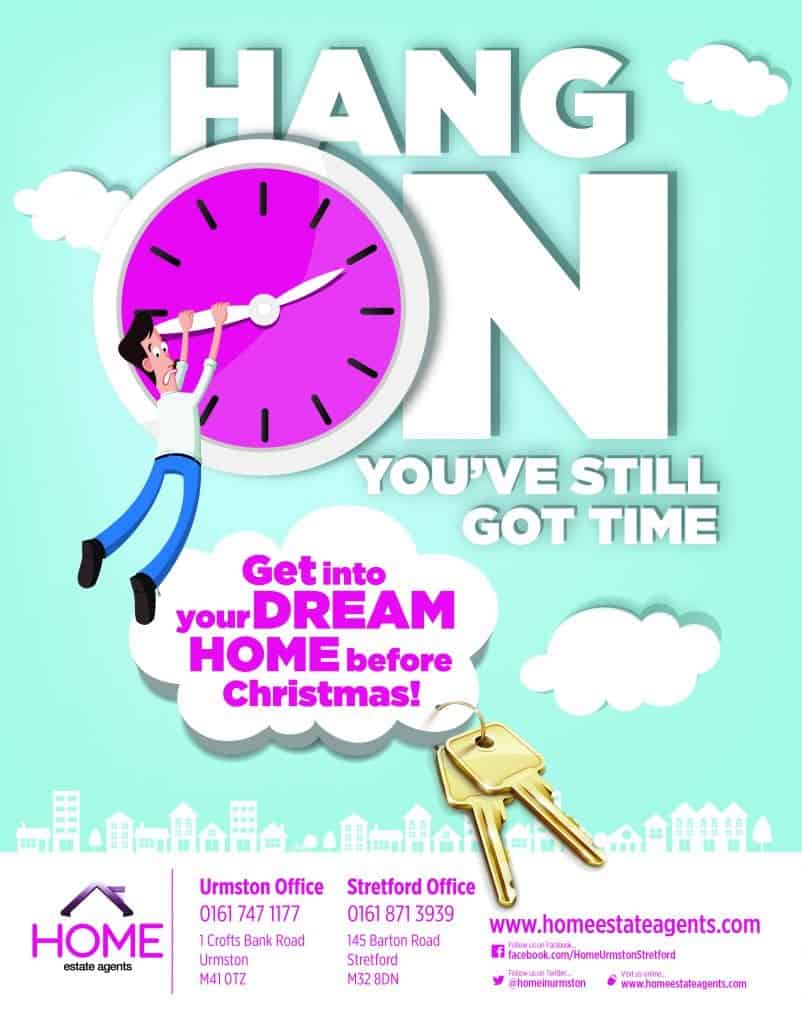 Well as September comes to an end the annual question has started being asked…'Can we sell and be in for Christmas?'
In a nutshell the answer is a resounding YES!
As agents our role is to find you a buyer, in a timescale that suits you and achieve you the best possible price. At HOME we pride ourselves on working with this in mind if that means a client wants to be enjoying their Christmas dinner in their new home we will do everything possible to make it happen.
Unfortunately for there are many factors that may work against us during the process.
PRICE – We are an independent estate agents so a good reputation is crucial and obviously we want to achieve the best possible price for our clients. The fine line between over valuing and the 'best price' is precarious. If an agent over values a property at this time of year or a vendor wants the agent to try a figure in excess of what the market warrants, it can mean going into the New Year still sat there without a buyer. No body wants that!
YOUR SOLICITOR – So the agent has found you that all important buyer and you have found your dream home. Being in for Christmas is not a done deal yet! Be sure that all parties are aware the desire to be in for Christmas and ensure the agents stats a completion date on Sales Letters. HOME have a unique relationship with Kuits solicitors based in Manchester city centre. Year after year, working closely with us they have made many clients Christmas's by getting them completed before 25th December. The Head of Residential Property Tony Hardy said, 'A move before Christmas can only be made possible with good communication and with all parties working towards the same goal. A client must be in constant contract with their mortgage broker and solicitor completing any necessary paperwork immediately. Any delay could jeopardise a pre-Christmas completion.'
At Home we have seen September be an extremely busy month and we see October being similar. Marketed correctly and being pushed proactively we see no reason why a client booking their valuation with us now can not be in before the big day.
If you would like to discuss selling your property call your local HOME office on Urmston: 01617471177 or Stretford: 01618713939