Almost 30,000 Families Living in Another Families Home
---
22nd April 2014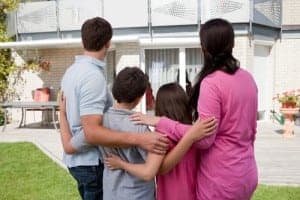 A census study by the Office for National Statistics (ONS) has shown that there are almost 300,000 "concealed families" in the UK living in another family's home – many of them young couples living under the same roof as their parents.
Data from the census back in 2011 showed that the number of homes occupied by two or more families grew by 70% between 2001 and 2011, meaning there are now around 289,000 families living in another family home in England and Wales – most of them under the age of 35.
ONS statisticians have coined this modern living arrangement as "concealed families" describing those who would be considered as family units, but don't show up on statistics as a household in their own right because they live under the same roof as another family.
The increase in concealed families is likely to be related to a number of different factors, but rising house prices and a squeeze on earnings will definitely affect the living arrangements of the younger generation.
The ONS stated: "housing availability and cost in relation to employment and earnings, and cultural differences in living arrangements and familial ties".
The figure doesn't include young adults who are still living with their parents or who have graduated and recently moved back in after university. Elderly parents living with their children's families, often in "granny flat" arrangements are not included in the data either.
"Concealed families" could however, describe young adults living with their partner and/or children under the same roof as their parents, as well as adult families sharing a home.
The figures revealed that number of young adults living with their parents has increased by a quarter since 1996, with many young people being forced to remain in the family home well into adulthood.
Fiona Weir, chief executive from the single parent charity 'Gingerbread', said: "These figures reflect the harsh realities of today's housing market, stagnant wages and cuts to benefits. Too many single parents have no alternative but to move back in with mum and dad, as they simply can't afford a home for their family on their own."
Is living with another family now becoming the norm? Let us know your experiences by tweeting us @HomeinUrmston or getting in touch via Facebook.